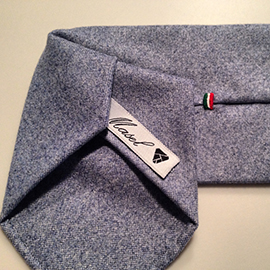 Each item is crafted according to artisanal traditions in little authentic and experienced workshops in Como's silk district and other Italian regions.
Selected fabrics, such as different kind of silk and cashmere, come from premium Italian fabrics companies (such as Ermenegildo Zegna). From manufacturing, to packaging and marketing, every single Masel tie and package is checked out by hand in order to guarantee best quality standards.
A Masel necktie is not only a unique or limited-series artisanal accessory: it represents a whole world in which the dignity of craftsmanship is palpable in every single detail.
Masel Bespoke Ties are customisable and tailored ties, the customer can select the pattern he prefers and than pick length and width of the tie, choose lining and embroidery colours and have monograms (on tie's tail) and a inscription (on tie's inner lining). The price starts from 108 euro for a tie with custom measurement and goes up to 143 euro for the bespoke tie with monograms and inscription and Masel special gift packaging (a special packaging particularly indicated in case of gifts, that has monograms of the client embroidered on it).
Beside from Bespoke ties, Masel offers to its customers sartorial ties, pocket squares, bow ties and scarfs. Ties' prices range from 108 euro up to 142 euro (depending on ties' fabric), pocket squares' price is 55 euro, scarves' 274 euro and bow ties' 55 euro.